Press release
Foreign Secretary visits Iraq, stresses importance of unity
Foreign Secretary William Hague is visiting Iraq to stress the importance of political unity.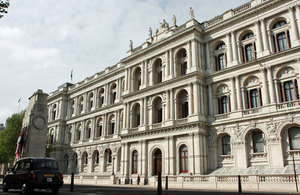 Arriving in Baghdad today as Iraq faces the threat of terrorist group ISIL's recent advances, Foreign Secretary William Hague is due to meet political and community leaders from across the spectrum of Iraqi political parties.
The Foreign Secretary said:
The Iraqi state is facing an existential threat, with huge ramifications for the future stability and freedom of this country. The single most important factor that will determine whether or not Iraq overcomes this challenge is political unity.

As a friend of Iraq, the UK believes the urgent priority must be to form an inclusive government that can command the support of all Iraqi people and work to stop ISIL in its tracks. The discussion of this key point is the purpose of my visit to Iraq and will form the basis of my conversations with Prime Minister Maliki and President of the Kurdish Regional Government Masoud Barzani as well as other key political figures.

The UK can provide diplomatic, counter-terrorism and humanitarian support to Iraq. We were the first donor nation to get a team on the ground to assess humanitarian needs in Erbil. We have provided £5 million in emergency relief already, and there is more that we will be able to do in support of a unified Iraqi government.

ISIL is a brutal terrorist group that is alien to this country, to the Middle East, and to the Islamic faith. It is a mortal threat to the stability and territorial integrity of Iraq, but the danger does not stop here: ISIL poses a direct threat to other countries in this region.

Moreover, anyone glorifying, supporting or joining ISIL should understand that they are assisting a group responsible for kidnapping, torture, executions, rape, and numerous other crimes documented by international human rights organisations. This is not heroic behaviour, it is heinous behaviour, and no one should be under any illusions about that.

But the immediate priority, and the focus of my discussions today, is to help and encourage Iraqi leaders to put sectarian conflict behind them and unite across all political parties.
Further information
Follow the Foreign Secretary on twitter @WilliamJHague
Follow the Foreign Office on twitter @foreignoffice
Follow the Foreign Office on facebook and Google+
Published 26 June 2014