Foreign Secretary visits Hong Kong, Australia and New Zealand
Foreign Secretary William Hague will promote the British economy, the Commonwealth and the UK's vision for a low carbon future on his visit from 17-21 January.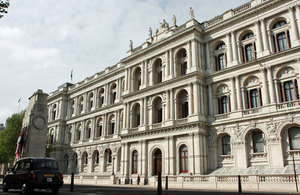 Starting in Hong Kong the Foreign Secretary will deliver a keynote speech to the Asian Financial Forum, focussing on how British businesses can develop economic partnerships in Asia.
In Australia the Foreign Secretary and Defence Secretary Liam Fox will attend an Australia UK Ministerial Meeting (AUKMIN) to discuss a range of international political and security issues with Australian Foreign Minister Kevin Rudd and Defence Minister Stephen Smith. The Foreign Secretary will also travel to Brisbane at the invitation of Foreign Minister Rudd to see disaster relief operation in the flood affected areas. In Sydney, he will deliver a speech setting out his vision on the future of the Commonwealth at the Lowy Institute.
In New Zealand, the Foreign Secretary and Defence Secretary will hold bilateral talks with New Zealand Foreign Minister Murray McCully and Defence Minister Wayne Mapp. The Foreign Secretary will also attend a wreath laying ceremony at Auckland War Memorial and attend a business event to promote UK-New Zealand trade & investment relations.
Published 14 January 2011