Press release
Foreign Secretary visits Hong Kong
Philip Hammond is in Hong Kong today, the first visit of a Foreign Secretary in over five years.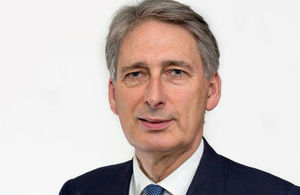 Hong Kong is the first stop of the Foreign Secretary's East Asia tour, including the G7 Foreign Ministers' meeting in Japan.
In Hong Kong, the Foreign Secretary will meet Chief Executive CY Leung where he will restate the UK's commitment as co-signatory to the Joint Declaration and support for Hong Kong's high degree of autonomy, rights and freedoms. He will underline the importance of One Country, Two Systems and of restarting progress on political reform.
In a meeting with the Chief Justice, the Foreign Secretary will emphasise Rule of Law as the cornerstone of 'One Country, Two Systems', and will highlight the strong links between our legal systems.
The Foreign Secretary, Philip Hammond, said:
Hong Kong is of great importance to the UK and Britain's longstanding commitment, as a co-signatory of the Sino-British Joint Declaration, is as strong as ever. Of course, the UK's relationship with Hong Kong is not just based on history. It is innovative, forward looking and dynamic, with excellent prospects for the future, on which we will continue to build.
Rule of Law is the cornerstone of an open and fair society. Hong Kong's success is underpinned by its independent judiciary and respect for rights and freedoms. Although the 'One Country, Two Systems' model is generally working well in Hong Kong, although concerns have been raised over the recent booksellers' case. With strong Rule of Law and a high degree of autonomy, Hong Kong continues to be a global hub for finance, business and legal services.
While in Hong Kong, the Foreign Secretary will also visit the new Admiralty Mass Transit Railway (MTR) station to highlight cutting edge British engineering and construction, and will meet members of Scotland's Rugby 7s team.
He will also meet Hong Kong and British businesses to discuss new ways of connecting the UK, Hong Kong and China markets, including by strengthening cooperation in innovative sectors such as green finance.
Further information
Follow the Foreign Secretary on twitter @PHammondMP
Follow the Foreign Office on twitter @foreignoffice
Follow the Foreign Office on facebook and Google+
Published 8 April 2016