Press release
Foreign Secretary visits Dublin
Foreign Secretary meets Irish Foreign Minister to discuss the bilateral relationship, EU reform and Northern Ireland.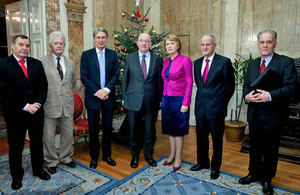 The Foreign Secretary Philip Hammond has visited Dublin, attending an Iveagh Series lecture given by the former President Mary McAleese on the Christmas Truce and meeting his Irish counterpart, Minister for Foreign Affairs and Trade Charlie Flanagan.
Speaking after the meeting, Philip Hammond said:
Remembering our nations' shared history and sacrifice in a spirit of mutual respect and friendship brings Britain and Ireland ever closer together. As we commemorate the Christmas Truce of 1914, those who fought side by side and paid the ultimate sacrifice 100 years ago would, I hope, be gratified at the present health of our relations.

Ireland is a firm friend and partner in Europe where we work together on global challenges such as the Ebola crisis in West Africa and, closer to home, in our efforts to secure a peaceful and prosperous society in Northern Ireland. I look forward to working with the Irish Government on much needed reforms in Europe that benefit all states and drive forward economic growth for everyone.
Further information
Follow the Foreign Secretary on twitter @PHammondMP
Follow the Foreign Office on twitter @foreignoffice
Follow the Foreign Office on facebook and Google+
Published 16 December 2014