Foreign Secretary visits Afghanistan
Foreign Secretary William Hague underlined the UK's enduring commitment to Afghanistan and applauded the President for Afghanistan's leadership during his visit to the country.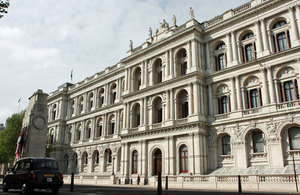 In a meeting with President Karzai on the eve of the Kabul Conference he applauded the President for Afghanistan's leadership in securing the cooperation of Afghanistan's neighbours to work together to ensure sustainable security and prosperity for the whole region.
During the meeting the President and the Foreign Secretary discussed a number of wider issues, including security transition, regional affairs and the forthcoming Tokyo Development Conference. The Foreign Secretary also thanked the President for the support of his Government in the recent rescue of kidnapped British National Helen Johnston.
He also met High Peace Council Chair Salahuddin Rabbani and Head of the Joint Secretariat Mohammad Masson Stanekzai, taking the opportunity to reiterate the UK's enduring commitment to Afghanistan, which includes a contribution of £70m per year from the UK from 2014 to support Afghanistan's National Security Forces, and the importance of an Afghan-led peace process.
He stressed the importance of the Tokyo Conference to be held in July, when the international community and the Government of Afghanistan must agree long-term mutual commitments for the Transformation Decade, with concrete pledges from donor partners for at least the period 2015 to 2017.
In addition to meetings with Government officials and attendance at the Kabul Conference, the Foreign Secretary met Deputy Commander ISAF Lt General Bradshaw.
The Foreign Secretary arrived in Afghanistan following a successful visit to Pakistan where he met a range of political leaders including President Zardari, Prime Minister Gilani and Foreign Minister Khar. Mr Hague took the opportunity to discussed the strength of bilateral UK-Pakistan relations and the UK and Pakistan's mutual interests in promoting stability in the region, ahead of the Kabul conference.
Images from Foreign Secretary's visit to Afghanistan
Published 14 June 2012