Foreign Secretary urges UN support for Arab League on Syria
Foreign Secretary William Hague will today argue for the urgent adoption of a resolution on Syria in support of Arab League plans to end the crisis when he speaks at the UN Security Council today.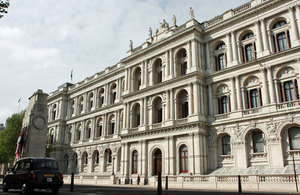 Speaking ahead of the UN meeting in New York the Foreign Secretary said:
"This is a very important resolution. It is a very sensible resolution because it endorses the plan of the Arab League. So this is not the Western nations trying to say what should happen in Syria, this is the plan from the Arab world. The Secretary General of the Arab League will be here at the Security Council this afternoon to explain it". He added that this was the first time the Arab League had come to the UN asking for support and that responding would be "a really material contribution to ending the bloodshed".
The Foreign Secretary stressed that the draft resolution was "the best hope for a peaceful way forward for Syria instead of this appalling situation at the moment where dozens of people are dying every day, nearly six thousand people we think now have been killed in the violence in Syria." He also made clear that the resolution charted "a Syrian led way forward for a political process in Syria".
Referring to countries such as Russia and China who vetoed the previous resolution on Syria, the Foreign Secretary said that they would come under ever increasing pressure from world and Arab opinion not to side with a dictatorial and repressive regime:
"What the resolution calls for is for the President to delegate his powers to his deputy in order to hold talks with the opposition in order to form an inclusive and transitional Government. That is a sensible way forward for all concerned in Syria.
And so I think even those countries that have stood by the Assad regime should be able to understand the seriousness of the situation, the probability that it will only get worse in the coming months and agree to this sensible way forward. Russia has not agreed to that at all so far, but one of the reasons that I've come here today, that Hillary Clinton will be here, the French Foreign Minister will be here, is to really underline the concern of all our countries about the bloodshed and violence and call for this sensible way forward."
"Countries that vote against or stand out against this resolution do have to ask themselves the question, are they behaving in a way which actually perpetuates bloodshed and violence and costs human lives".
The Security Council meeting will start at 1500 (New York time). It will be streamed live on the UN website.
Published 31 January 2012