Press release
Foreign Secretary urges Iraqi leaders to unite in fight against terror group
Foreign Secretary William Hague has urged Iraqis to set aside their differences and unite to defeat terrorism in their country.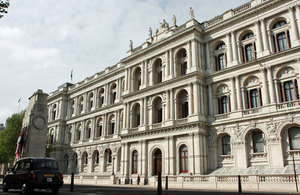 Speaking at a joint press conference with US Secretary of State John Kerry, Mr Hague said:
Secretary Kerry and I have been discussing the extremely serious situation in Iraq. We noted of course that fighting continues, but their attacks have thankfully slowed and in the UK we think our focus should now be on three objectives.

First of all, to stabilise the situation. This is primarily the responsibility of the Iraqi Security Forces working in cooperation with their civil authorities, including the Kurdistan Regional Government.

Second, for Iraq's leadership to come together in a united response to this brutal aggression against their country. That requires their leaders to find ways immediately to put aside their differences, however strongly felt, and act together against the terrorism which threatens them all.

Third, the half a million or more displaced people in the north who have been forced to flee Mosul and the surrounding areas need urgent support, so that the humanitarian situation does not deteriorate further.

In the UK we are not planning a British military intervention. But we are looking urgently at other ways to help, for example help with counter-terrorist expertise. Work is under way on that now and we will continue to liaise closely with our United States allies in particular.

A British team of emergency aid experts from DFID arrived in Iraq early this morning and are looking urgently at what the UK might do to help on that front.

We will also continue to work urgently within the UN Security Council to help concert the wider international response. The UN Special Representative for Iraq was clear to the Security Council yesterday about the urgency of both the humanitarian crisis and the need for Iraq's politicians to address the immediate challenge.

Clearly ISIL represents a regional challenge. We are thinking through very carefully the implications of that. And this attack shows the importance of a strong stand against the extremists, and that's why we're giving our backing to moderate groups in Syria who are taking them on.
Further information
Follow the Foreign Secretary on twitter @WilliamJHague
Follow the Foreign Office on twitter @foreignoffice
Follow the Foreign Office on facebook and Google+
Published 13 June 2014