News story
Foreign Secretary urges Assad to allow UN team into Syria
Foreign Secretary urges Assad regime to give UN team unrestricted access to Syria to investigate reports of chemical weapon use.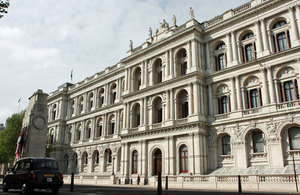 Responding to further allegations of chemical weapon use by the Assad regime, the Foreign Secretary William Hague said:
New reports have emerged of further chemical weapons use by the regime in Syria. The Assad regime continues to refuse access to the country to UN investigators. This makes it difficult to corroborate these reports, and confirms that this is a regime determined to conceal the truth about what is happening in the country.
We have previously stated that we have limited but credible evidence from various sources showing chemical weapon use in Syria. We have briefed our allies, partners and the UN on this evidence and we are working actively to get more information.
The use of chemical weapons is a war crime. Those who order the use of chemical weapons, and those who use them, should be in no doubt that we will work in every way we can to hold them to account. As an urgent first step, we will work with our partners to increase the pressure on the regime to allow unrestricted access for the UN team to investigate on the ground in Syria.
Further information:
Follow the Foreign Office on twitter for the latest news @foreignoffice
Follow the Foreign Secretary on twitter @WilliamJHague
Published 16 May 2013