Foreign Secretary: UK wants to build better relations with Iraq
Foreign Secretary William Hague is in Iraq where he met Prime Minister Nouri al-Maliki, Foreign Minister Hoshiyar Zebari and Speaker of the House of Parliament.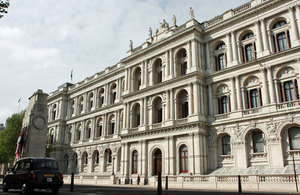 Speaking from Baghdad the Foreign Secretary said:
"This visit has helped to reaffirm the UK's long-standing friendship with Iraq and its people and had helped to further develop strong trade and commercial ties between our countries.
"I told Prime Minister al-Maliki that Britain will continue to support the political process in Iraq and the government's efforts to deliver stability. The UK recognises that Iraq still faces significant threats from extremists, but the security situation has generally improved. We will continue to be closely engaged on this issue.
"Our economic ties are strong. Foreign Minister Zebari and I agreed to form a new joint Ministerial Council to increase trade between our two countries. The opening of a Visa Application Centre in Baghdad this coming October is also a further signal of our practical commitment to strengthening relations.
"On Syria, Britain and Iraq are in full agreement on the way forward: we want a peaceful and democratic political transition and we both fully support the work of the joint United Nations/Arab League special representative Lakhdar Brahimi."
[View the story "Foreign Secretary visits Egypt & Iraq" on Storify]
Published 13 September 2012