Foreign Secretary to visit South East Asia
Foreign Secretary William Hague is visiting Vietnam, Singapore and Brunei from 24 April.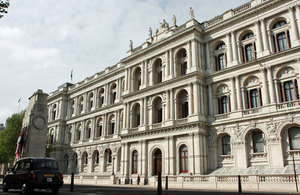 Speaking ahead of the visit, which started in Vietnam, the Foreign Secretary said:
"I am delighted to be visiting Vietnam - the first British Foreign Secretary to do so in 17 years. This Government recognised from the outset that the world's economic and political centre of gravity is shifting to the countries of the South and the East, and I am determined that British engagement with the emerging powers of South East Asia reflects this. My aim is for the UK to be a leading partner in prosperity, trade and security throughout the region."
"Vietnam is a country with vast potential and a key friend of the UK in South East Asia. The Strategic Partnership which we signed in 2010 demonstrates our commitment to working with Vietnam both bilaterally and in the wider regional and international context, as Vietnam plays an increasingly important role on the global stage. During my visit, I will have the opportunity to explore with my Vietnamese hosts further ways for our countries to work even more closely together."
After Vietnam, the Foreign Secretary will visit Singapore:
"It is a great privilege for me to visit Singapore, with whom the UK has deep and long-lasting ties. I hope that we can strengthen our close and historic relationship still further, by building on our existing links in areas such as trade and investment, climate change, international security, and the pursuit of our shared aims through the Commonwealth. It is often said that Singapore is the gateway to Asia, just as the UK is in many ways the gateway to Europe. We have much in common and much to learn from each other, and it is my wish that we continue as leading partners in the years ahead."
The Foreign Secretary will deliver a speech to the International Institute for Strategic Studies called Britain in Asia. The speech will be live streamed. You can ask your questions during the speech via twitter using #IISS_asia.
The Foreign Secretary will then travel to Brunei to attend the EU-ASEAN Foreign Ministers' meeting. Ministers will discuss a range of issues, including the global financial and economic situation, security issues, climate change and the environment.
Published 25 April 2012