Foreign Secretary to attend UN Human Rights Council in Geneva
Foreign Secretary William Hague to lead international efforts to hold those responsible for the horrifying violence in Libya to account.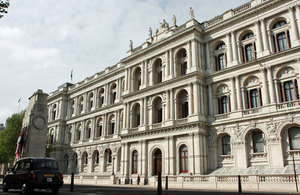 Speaking today, the Foreign Secretary, William Hague, said:
"The UK has driven today's UN Human Rights Council Special Session on Libya as part of a concerted international effort to end the violence in Libya. The message is clear: that there will be a day of reckoning for those guilty of the appalling atrocities. The world will act together to hold them to account.
"I am pleased that the UN Human Rights Council has passed by consensus a resolution against Libya that focuses attention on the terrible human rights abuses happening on the ground. The resolution calls for an independent international commission of inquiry and has recommended that the United Nations General Assembly consider suspending Libya from its seat in the HRC in view of the gross and systematic violations of human rights by the Libyan authorities.
On Monday 28th February I will be attending the Human Rights Council in Geneva. I will be meeting with other Foreign Ministers including Secretary Clinton. We will continue to press for action on Libya as there have been gross and systematic human rights violations by the Libyan authorities that are utterly unacceptable and we condemn them absolutely.
I am committed to the UK's role in championing human rights and strengthening rule of law in a way that respects the dignity of people around the world. We will always speak out when countries violate their human rights obligations and I look forward to discussing these issues in detail on Monday."
Published 28 February 2011