News story
Foreign Secretary to attend Friends of Syria meeting in Marrakesh
Representatives from over 130 countries and international organisations, will meet tomorrow for the fourth Friends of Syria meeting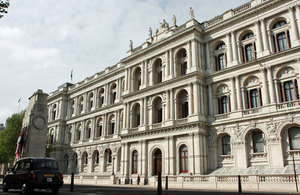 On 12 December the Friends of Syria will meet to support the Syrian National Coalition and the Syrian People
During the 22 month conflict over 40,000 people have been killed and 2 million people have been displaced inside Syria. There are daily reports of more deaths and atrocities.
This is the fourth meeting of the Friends of Syria and follows the formation of the Syrian National Coalition in Doha on 11 November.
The UK's objective in Marrakesh is to provide support to the Syrian National Coalition as they establish themselves as a credible alternative to the Assad regime. We believe that the Friends of Syria should:
Send a clear message to Assad that his position and regime are no longer sustainable by giving more political support to the National Coalition;

Provide practical support to the Syrian National Coalition in pursuit of a political transition, while also helping local councils in Syria provide essential services;

Re-establish a sense of urgency around planning for a political transition and Syria's long term future, reinforcing the message that Assad cannot be part of any transition and offering reassurance that fears of a post-Assad vacuum are unfounded.

Increase efforts to alleviate the horrendous humanitarian suffering as winter approaches. Syria's neighbours have shown extraordinary generosity, but UN appeals remain critically underfunded. The UK has committed £53.5 million in humanitarian assistance and we are asking for others to contribute to the fund.
Syria desperately needs a political transition based on the Geneva Declaration. The UK continues to believe that Russia and China should recognise that President Assad can never recover legitimacy in the eyes of the Syrian people and that they should back UN Arab League Special Envoy Brahimi in bringing about a diplomatic solution to the crisis. We therefore welcome his on-going discussions with the US and Russia.
Until this happens, the UK will continue to do all we can to avoid a drawn-out military conflict by;
backing the Syrian National Coalition in pursuit of a genuine transition process and supporting them in preparing for political transition;

increasing pressure on the Syrian regime through the effective implementation and enforcement of sanctions to stop funds used to finance the killing;

ensuring we have maximum flexibility to act in the future following the decision to limit the rollover of the EU arms embargo to three months.
Further information
Follow the UK special representative to the Syrian Opposition @JonWilksFCO
Follow the Foreign Secretary @WilliamJHague and the Foreign Office @foreignoffice
More information on the Geneva Declaration
Conclusions from the Friends of Syria meeting in July
Published 11 December 2012