Foreign Secretary: Syrian assault on Aleppo is unacceptable escalation of conflict
Foreign Secretary William Hague has spoken after reports that the Assad regime is amassing troops around the city of Aleppo.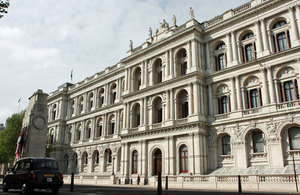 "I am deeply concerned by reports that the Syrian Government is amassing its troops and tanks around Aleppo, and has already begun a vicious assault on the city and its civilian population.
"This utterly unacceptable escalation of the conflict could lead to a devastating loss of civilian life and a humanitarian disaster. It will add to the misery being endured by the Syrian people, and plunge the country further into catastrophic civil war.
"The Assad regime must call off this assault. I call on all countries around the world, including the Permanent Members of the Security Council, to join us in condemning these latest actions and to insist on a political process to end the violence in Syria. All those with influence on the Syrian regime should bring it to bear now. No nation should stand silent while people in Aleppo are threatened with a potential massacre.
"This dire situation illustrates very strongly why the people of Syria needed the UN Security Council Resolution we proposed last week.
"The regime should be in no doubt that the world is watching its actions, and that those responsible for the crimes being committed will one day be held to account."
Published 27 July 2012