News story
Foreign Secretary statement on the situation in Egypt
Foreign Secretary William Hague: 'We call on all parties to show the leadership and vision needed to restore and renew Egypt's democratic transition.'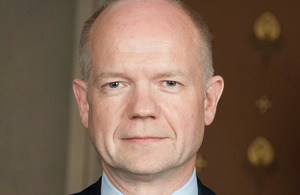 Responding to events in Egypt this evening, the Foreign Secretary said:
The situation is clearly dangerous and we call on all sides to show restraint and avoid violence. We continue to advise British citizens to avoid all non-essential travel to Egypt apart from the Red Sea resorts, and to monitor travel advice from the Foreign Office.
The United Kingdom does not support military intervention as a way to resolve disputes in a democratic system. The chance of a democratic future was hard won for Egypt by the Egyptian people two and a half years ago. But looking forward, we call on all parties to show the leadership and vision needed to restore and renew Egypt's democratic transition. It is vital for them to respond to the strong desire of the Egyptian people for faster economic and political progress for their country.
In our view this must involve a political process that includes all groups on an equal footing leading to early and fair elections which all parties are able to contest, and civilian-led government.
I urge Egypt's leaders to show a real determination to work together to make this happen in a way that they have not done in recent months.
In the long run only democratic processes and government by consent will bring the stability and prosperity that the people of Egypt seek.
Further information
On Thursday morning, 4 July, the Foreign Secretary spoke about Egypt on the BBC Radio 4 Today program. Listen again on the BBC website
Follow the Foreign Secretary on facebook and on twitter: @WilliamJHague.
Twitter @UKinEgypt.
Facebook UK in Egypt.
Travel advice for Egypt.
Follow the Foreign Office on twitter, facebook & google+.
Subscribe to the announcements feed or email alerts to get our latest news and announcements.
Published 3 July 2013