Press release
Foreign Secretary statement on the return of Karl Andree to the UK
Foreign Secretary statement on the return of Karl Andree to the UK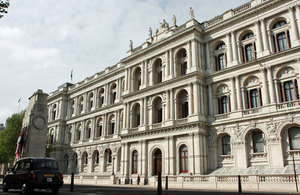 Foreign Secretary Philip Hammond said:
Karl Andree was released from prison hours after my visit to Riyadh on 28th October. I'm pleased that he has returned home to be reunited with his family, bringing to an end an extremely tough time for him and his family.
I'm grateful to the Saudi Arabian Government for their efforts in ensuring this positive outcome, following our discussions during my visit. It's through the strength and breadth of the relationship between our nations that we have been able to overcome a difficult issue like this.
Further information
Published 11 November 2015