Press release
Foreign Secretary statement on the Libya political dialogue
Philip Hammond welcomes UN Special Representative Bernardino Leon's final text on the Libya political dialogue.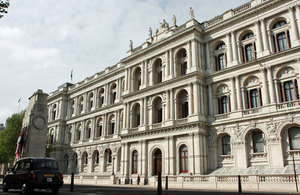 The Foreign Secretary said:
I welcome the announcement by UN Special Representative Bernardino Leon that he has a final text from the Libya political dialogue, subject to approval by both parties. This is an important step towards the establishment of a Government of National Accord (GNA) after more than a year of negotiations facilitated by the United Nations.

Now is the time for all Libyan political parties and the Libyan people to seize the opportunity to build a stable and secure future for their country. I urge all parties to commit to a political solution that is inclusive, fully representative, and durable by concluding this process. Failure to do so could see Libya slide further into conflict and risk regional instability, including increased migration and terrorism. I call on the Libyan people to turn their backs on those who seek to disrupt this process through fear, intimidation and violence.

The UK stands ready to work with the international community to deliver a significant package of support to help a united Libyan Government of National Accord to deliver a stable and prosperous future for all Libyan citizens.
Further information
Published 22 September 2015