Foreign Secretary statement on the arrest of Saif al-Islam Qadhafi
Foreign Secretary William Hague has welcomed the arrest of Qadhafi's son Saif al-Islam.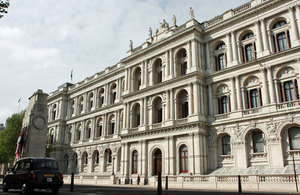 Speaking today the Foreign Secretary William Hague, said:
"I welcome the arrest of Saif al-Islam. This represents another significant step forward in the transition to a new, democratic Libya.
"He must now be held to account for his actions, and face trial on the charges brought against him, including by the International Criminal Court. We stand ready to assist the Libyan government and the ICC to bring Saif al-Islam to justice. I welcome the Libyan authorities' commitment to ensure his detention and trial meet international standards. It is also essential that no effort be spared to bring the remaining ICC indictee, Abdullah Senussi, to justice.
"Saif al-Islam no longer poses a threat to peace and security in Libya. His arrest will allow the Libyan people to move on to the challenge of rebuilding their country. The international community stands ready to help and Britain is already providing support and assistance. I look forward to the announcement of a new Transitional Government, and to working closely with it to achieve their goal of a democratic and prosperous Libya."
Published 21 November 2011