Press release
Foreign Secretary statement on the announcement of a ceasefire in Afghanistan
Foreign Secretary Boris Johnson welcomes announcement by Afghanistan's National Unity Government of a ceasefire over Eid al-Fitr.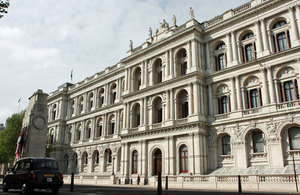 Foreign Secretary, Boris Johnson said:
I welcome the announcement by the National Unity Government of a ceasefire for Eid al-Fitr. This is an opportunity to reduce levels of violence and create space for talks to begin. Recent international conferences in Kabul and Tashkent have shown that the regional community and regional states are united on the need for a peaceful resolution in Afghanistan. We call on the Taliban to join the ceasefire and seize the opportunity to advance the cause of peace which the people of Afghanistan so deserve.
It is also right that the ceasefire does not apply to affiliates of the so-called Islamic State, and other terrorist groups. I am certain that the Afghan government will remain resolute in defending the Afghan state and its people. The UK stands firmly with the Afghan government against terrorism and supports its efforts to build peace.
Further information
Published 7 June 2018