Press release
Foreign Secretary statement on Syria peace talks
Foreign Secretary Philip Hammond has issued a statement on the Syrian High Negotiating Committee's participation in the peace talks taking place in Geneva.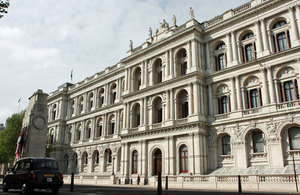 He welcomed the decision to take part, which followed his call to the HNC's chairman Riyad Hijab yesterday, urging him to join the talks.
Foreign Secretary Philip Hammond said:
"I welcome the difficult decision that the Syrian High Negotiating Committee has made to attend peace talks hosted by the United Nations Special Envoy Staffan de Mistura in Geneva.
"Intra-Syrian peace negotiations must deliver a political transition away from Asad and end the suffering of the Syrian people. The UK supports this process and calls for complete and unfettered humanitarian access across Syria, and an end to all violations of international humanitarian law, as set out in UN Security Council Resolution 2254.
"The UK believes in a Syrian-led political settlement to the conflict and expects both sides to participate in good faith to finally provide the peace the Syrian people deserve."
Published 30 January 2016