Press release
Foreign Secretary statement on Syria
Statement by the Foreign Secretary following tonight's meeting of the International Syria Support Group (ISSG).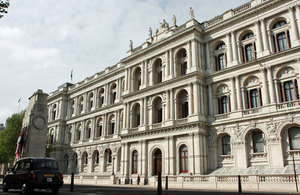 Foreign Secretary Philip Hammond said:
The International Syria Support Group (ISSG) meeting in Munich committed members to achieving a cessation of hostilities within a week, to delivering humanitarian assistance to named besieged communities by this weekend and to facilitating rapid progress in negotiations aimed at political transition.

If implemented fully and properly by every ISSG member, this will be an important step towards relieving the killing and suffering in Syria. But it will only succeed if there is a major change of behaviour by the Syrian regime and its supporters.

Russia, in particular, claims to be attacking terrorist groups and yet consistently bombs non-extremist groups including civilians. If this agreement is to work, this bombing will have to stop: no cessation of hostilities will last if moderate opposition groups continue to be targeted.
Further information
Published 12 February 2016