Press release
Foreign Secretary statement on Ramadi
The Foreign Secretary congratulates the Government of Iraq on the raising of the Iraqi flag in Ramadi.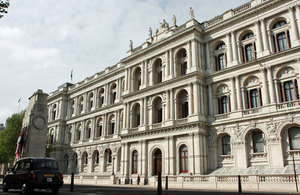 Speaking today Philip Hammond said:
This is the latest in a series of significant losses for Daesh. These barbaric terrorists have lost 30% of the territory they once held in Iraq. They have been driven out of cities across the country by Iraqi forces, with support from the UK and the Global Coalition. The Royal Air Force's close air support operations around Ramadi in recent days have played a key role in the battle for Ramadi.

We will continue to support the Government of Iraq as it re-establishes the security, governance and services the people of Ramadi will need as they return to their city. This remains a long fight, but the Coalition's strategy is succeeding. We will continue to stand with the Iraqi people until Daesh is defeated.
Further information
Follow the Foreign Secretary on twitter @PHammondMP
Follow the Foreign Office on twitter @foreignoffice
Follow the Foreign Office on facebook and Google+
Published 28 December 2015