Foreign Secretary statement on Nigerian Presidential elections
Foreign Secretary William Hague comments on the announcement from Professor Jega, Chairman of the Independent Electoral Commission that Goodluck Jonathan has won the Nigerian Presidential election with 57% of the vote.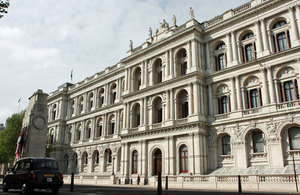 Foreign Secretary William Hague said:
"The Nigerian Presidential elections on 16 April represent a significant step forward, not just for Nigeria but also for democracy throughout Africa. I welcome that this election appears to be the most credible since the end of military rule in 1999. I congratulate the people of Nigeria for exercising their democratic duties and I congratulate President Goodluck Jonathan on his election.
"I commend the leadership of Professor Jega and the Independent Electoral Commission for their crucial role in the process. Civil society and Nigeria's Youth Service have also played a vital role in supporting the millions of Nigerians casting their votes at the polling units.
"These elections were not completely peaceful, but it is to the credit of the Nigerian people that they voted in spite of the violence. It is also clear that deficiencies in the process and individual challenges to the reported results will need addressing. I call for those challenges to be pursued peacefully and in the spirit of the democratic values which we share. I condemn the violence that has taken place following the election and reportedly led to the loss of life.
"The United Kingdom greatly values its friendship with Nigeria and looks forward to working closely with President Jonathan and the new Nigerian government in the coming years."
Published 18 April 2011