Foreign Secretary statement on Lahore attack
The Foreign Secretary William Hague has spoken about the attack in Lahore.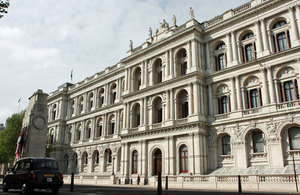 Upon hearing about the attack on a Sufi mosque, the Foreign Secretary said:
"I send my deepest sympathies and condolences to the families of those who lost their lives in the devastating attack in Lahore yesterday and to all those affected by it.
This was a vicious and inhuman act. Britain stands alongside the people and Government of Pakistan against those who commit such appalling atrocities.
We will be a firm friend to Pakistan as it works towards a safer and more prosperous future for all its citizens, and will continue our resolute support for efforts to prevent such attacks in the future."
Search the news archive
Published 2 July 2010