Foreign Secretary statement on human rights in Bahrain
Foreign Secretary William Hague has called on authorities to respect the right to peaceful protest in Bahrain.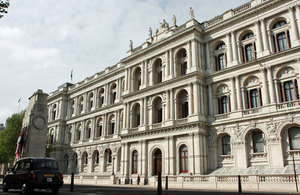 The Foreign Secretary said:
"I remain concerned at events in Bahrain. Although the immediate situation appears calmer, there continue to be many credible reports of human rights abuses. The arrests of opposition figures, the reports of deaths in custody, allegations of torture and the denial of medical treatment, are extremely troubling. I call on the Government to investigate them fully and transparently. I urge the Bahraini authorities to act in accordance with the law and to meet international standards for the treatment of detainees.
I am also concerned about the Government's move to investigate prominent licensed, political opposition parties - which may lead to their suspension, and by reports that human rights activists have been arrested. The civil rights of peaceful opposition figures and the rights of freedoms of expression and assembly must be respected.
I urge the Government of Bahrain to meet all its human rights obligations and uphold political freedoms, equal access to justice and the rule of law. Events across the Middle East have shown that governments need to respond with reform and not repression if they are to enhance the long-term stability and prosperity of their countries.
I encourage the Bahraini Government and leaders of both communities to show real leadership in promoting tolerance and to demonstrate a shared commitment to the future of Bahrain.
A continuation of the political reform process initiated by King Hamad bin Isa al-Khalifa is essential. It is important that the people of Bahrain are allowed to decide their future themselves. Dialogue is the pathway to meeting the aspirations of all Bahrainis. I urge all sides to engage in it."
Published 21 April 2011