Foreign Secretary statement on Gaza Flotilla inquiry
The Foreign Secretary has made a statement about the Government of Israel's Gaza Flotilla inquiry.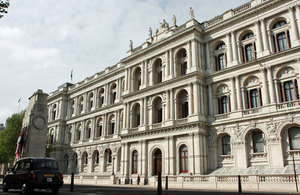 Speaking about Israel's announcement of an inquiry into the Gaza Flotilla incident, Foreign Secretary William Hague said:
"The announcement by the Government of Israel of an independent public Commission into the Gaza Flotilla incident and the appointment of Lord Trimble as an international observer should be welcomed. This is an important step forward.
Clearly, the Commission must provide a full, credible, impartial and independent investigation that the international community can respect. We will be better able to judge whether this standard has been met as its work develops. It is important that the Commission is now able to proceed swiftly, transparently and rigorously, with access to the full evidence available."
Published 15 June 2010