Foreign Secretary statement on conclusion of E3+3 talks
Foreign Secretary William Hague has spoken following talks between Iran and the E3+3 in Moscow.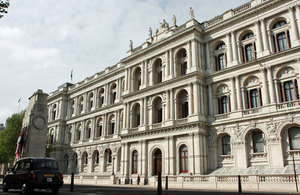 Speaking after the E3+3 talks concluded, the Foreign Secretary said:
"The E3+3 approached the talks in Moscow ready to make progress. Our position was consistent, clear and reasonable. There was a detailed and frank exchange on our respective proposals.
"There remain significant differences on substance. We regret that Iran was not prepared to negotiate seriously on specific concerns of the international community - in particular regarding 20% enrichment. This is a missed opportunity to address the serious concerns of the international community.
"We have been unable to set another round of talks at this stage. However nuclear experts from both sides will meet to offer further clarity on technical issues, following which we will consider whether there is sufficient basis for further political talks.
"The E3+3 is united in reiterating that the onus is on Iran, which stands in contravention of six UNSCRs, to take concrete steps to reassure the international community about its intentions.
"Iran should not doubt our commitment to a peaceful, negotiated solution. But it should understand clearly that in order to achieve this it must be willing to take urgent, concrete steps to reassure the international community to which we will respond. Our door remains open for serious engagement and negotiations.
"EU oil sanctions will come into force on 1 July and until Iran chooses a different path we will work with partners across the world to intensify the pressure further".
Published 19 June 2012