Foreign Secretary stands in solidarity with Burmese political prisoner Ko Mya Aye
Foreign Secretary William Hague added his support to Amnesty International's campaign for the release of Burma's 2,100 political prisoners on 20 October.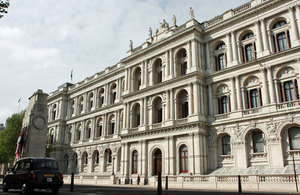 Photo by James Mackay. See more images at www.enigmaimages.net.
The Foreign Secretary chose to highlight the case of Ko Mya Aye, aged 44, who is a leading member of the 88 Generation Students Group, an organisation synonymous with the long struggle for democracy in military-ruled Burma.
Ko Mya Aye is serving his second spell in detention having previously been imprisoned between 1989 and 1996 for taking part in the 1988 uprisings. Following the Saffron Revolution in 2007, Ko Mya Aye was re-arrested and sentenced to 65 years in prison. Reports suggest he has been tortured and is in poor health.
On hearing the details of Ko Mya Aye's imprisonment, the Foreign Secretary said:
"The continued detention of Ko Mya Aye and of more than 2,100 other political prisoners in Burma is deplorable. I urge the military regime to release all political prisoners immediately and unconditionally, and respect the human rights of Burma's people."
Many of these prisoners are held in detention in locations far from their families in harsh conditions. It is not uncommon for some political prisoners to receive draconian sentences as long as 65 years.
Published 21 October 2010