Foreign Secretary speaks out against arrest of female activists in Iran
Foreign Secretary William Hague: "The continued efforts of the Iranian authorities to stifle inconvenient voices and to disregard essential rights are truly disturbing."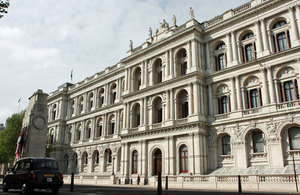 Foreign Secretary William Hague said:
"In recent weeks many female activists in Iran have been arrested and imprisoned on vague charges. These include photographer Maryam Madj, film-maker Mahnaz Mohammadi, journalist Zahra Yazdani, women's rights advocate Maryam Bahrman and Mansoureh Behkish arrested following her work with the 'Mourning Mothers'.
"These women join a host of journalists, bloggers, students and human rights defenders in prison, along, in some cases, with the lawyers who have sought to defend them. The continued efforts of the Iranian authorities to stifle inconvenient voices and to disregard essential rights are truly disturbing. Women whose conscientiousness and achievement should be celebrated, are instead behind bars. It is another sign of Iran claiming to support increased openness and reform in the Middle East, while doing anything but that at home."
Published 30 June 2011