News story
Foreign Secretary speaks on distinctive foreign policy approach
In Japan today Foreign Secretary William Hague has delivered his second speech on the Coalition Government's vision for foreign policy.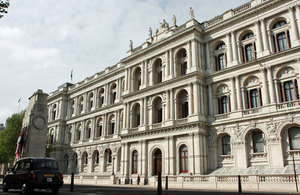 Entitled 'Britain's Prosperity in a Networked World', the speech sets out how the Foreign Office will increase its efforts to help secure Britain's economic recovery. It will be delivered to business leaders and politicians in Tokyo.
The Foreign Secretary discussed plans to inject a new commercialism into the work of the Foreign Office to ensure the development of strong political relationships that will help British business thrive. Read the full text of today's speech here.
Foreign Secretary speaks on distinctive foreign policy approach
In parallel with the speech he has written to all Foreign Office staff, asking them to redouble their focus on seeking the new trade and investment opportunities needed to drive the UK's growth and economic recovery.
The speech is the second in a series of four by the Foreign Secretary setting out how a distinctive British foreign policy can and should be achieved. It follows the speech on July 1 - read the full text or watch the video of the July 1 speech here.
Published 15 July 2010