Foreign Secretary: situation in Syria very serious
"The situation is very serious and an example of unacceptable behaviour by the Syrian government", said Foreign Secretary William Hague.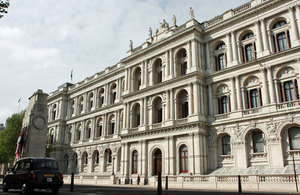 The Foreign Secretary discussed the latest situation in Syria with Dermot Murnaghan on Sky News this morning.
Following reports of a deteriorating human rights situation in the region, the Foreign Secretary said "it's time for the Security Council to call on the Syrian government to respond to legitimate grievances and co-operate with the UN Commissioner on Human Rights."
He said there is "no prospect of a UN resolution similar to 1973 on Libya".
"There is no such call in the case of Syria. Lebanon is unable to take a position. The question is so hypothetical as to be academic. We need to work at this in other ways. We need access for the Red Cross and the Red Crescent. Assad must agree to speak to Ban-Ki Moon. We need to use the influence of Turkey on Syria and ensure that other Arab states persuade them to stop this violence."
Published 12 June 2011