Foreign Secretary signs Memorandum of Understanding with the Dominican Republic
Foreign Secretary William Hague and Foreign Minister Carlos Morales Troncoso have signed a Memorandum of Understanding (MoU) on Bilateral Co-operation between the UK and the Dominican Republic.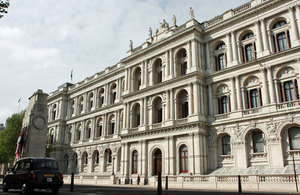 On 21 July, the Foreign Secretary and Minister of State Jeremy Browne met Carlos Morales Troncoso, Minister of Foreign Affairs of the Dominican Republic.
The MoU covers a number of areas including the promotion of trade and investment, co-ordination in the fight against illegal drug trafficking and working together to address the threat of climate change.
This follows the meeting between the Foreign Secretary and the Foreign Minister in January 2012 at which they agreed to seek a Memorandum of Understanding as a way of symbolizing the growing bilateral relationship between the two countries. Speaking today, the Foreign Secretary said:
"The Dominican Republic is an excellent trade and investment partner, we have a great relationship over security and this indicates our increasing engagement in the Latin-America and Caribbean region. It gives me great pleasure to sign this Memorandum of Understanding on Bilateral Co-operation with the Dominican Republic".
The Dominican Republic is one of the fastest growing economies in Latin America. The UK is the fifth largest investor thanks to a small number of large, diverse investments in various sectors including manufacturing, power generation and tourism.
Published 21 June 2012