Foreign Secretary says cooperation with France makes a vital contribution to Foreign Office priorities
Foreign Secretary William Hague yesterday met his new French counterpart, Madame Michele Alliot-Marie.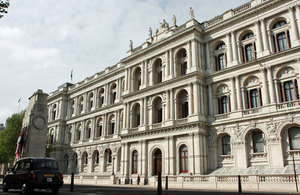 The Foreign Secretary said:
"I am grateful to Madame Alliot-Marie for travelling through the snow for our discussions this evening. Bilateral and multilateral cooperation with France makes a vital contribution to the FCO priorities to secure our national prosperity, enhance our security and protect our citizens."
The Foreign Secretary and Madame Alliot-Marie agreed to continue joint efforts to strengthen the European economy and stabilise the EU budget.
They committed themselves to working together to strengthen EU efforts to bring stability to the Western Balkans. And they looked forward to working closely together on a range of global issues as France assumes the Presidency of the G8 and G20.
As representatives of two Permanent members of the UN Security Council, the Foreign Secretary and Madame Alliot-Marie discussed a number of key threats to international peace and security.
On Iran, they took stock of recent E3+3 talks on Iran's nuclear ambitions and reiterated their commitment to work closely together, and with international partners, to ensure that Iran fulfils its obligations under the Non Proliferation Treaty and the relevant UN Security Council resolutions.
On the Middle East Peace Process, they regretted the failure to extend the moratorium on settlement building and underlined support for US efforts to find a way forward. They expressed support for a strong EU role, including steps to alleviate the humanitarian situation in Gaza and support for Palestinian state-building.
The Ministers also recalled the need for negotiations on the Israel-Syria and Israel-Lebanon tracks in order to reach a comprehensive peace. They expressed their firm commitment to the Special Tribunal in Lebanon in light of recent events. They underlined strong support for international efforts - including those of the UN, EU, US and African Union - to prepare for next month's referendum on the status of Southern Sudan and urged all parties to respect the outcome.
On Cote d'Ivoire, the two Foreign Ministers welcomed the unanimous adoption of the UN resolution, expressed grave concern at the deteriorating security situation in the country and condemned the continuing violence. They urged former President Gbagbo to withdraw his challenge to the United Nations, impose restraint on the armed forces; and to respect the electoral outcome and step down. They agreed on the need for a firm international and EU response and welcomed the ongoing work on EU sanctions.
Published 21 December 2010