Foreign Secretary's statement on delivery of unfrozen Libyan banknotes
On 31 August, the Royal Air Force delivered 280 million dinars (c£140m) to the Central Bank of Libya in Benghazi.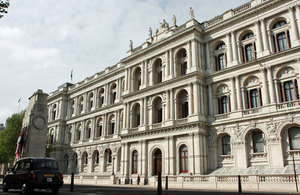 The newly minted banknotes were part of a stock of 1.86bn dinars printed in the UK, which were frozen under UNSCR 1970 at the start of the crisis in Libya in order to prevent them falling into the hands of the Qadhafi regime, before being unfrozen by the UN on Monday 29 August.
Following the delivery, Foreign Secretary William Hague said:
"I am delighted to announce that today the RAF delivered 280m Libyan dinars to the Central Bank of Libya in Benghazi. The banknotes will be used to pay the wages of Libyan public sector employees, including nurses, doctors, teachers and police officers; provide support for those on social security who have not been paid for a number of months; provide aid for refugees displaced by the conflict; pay for medicines and subsidies for food supplies; and will be transferred to commercial banks in order to make currency available to the general public for their basic living expenses. This is particularly important at the time of Eid.
Returning money to the Libyan people is part of our commitment to help the NTC rebuild Libya and help create a country where the legitimate needs and aspirations of the Libyan people can be met. It follows and was authorised by the UN's decision to unfreeze 1.86bn Libyan dinar banknotes printed in the UK. Further deliveries of the remaining funds will be made shortly."
Liam Fox, Secretary of State for Defence said:
"I am pleased that the RAF was able to assist in the delivery of these bank notes - another example of the highly professional approach all three of our Armed Forces have been taking to support the Libyan people at this time."
Published 31 August 2011