Press release
Foreign Secretary responds to reports of Russian military vehicles in Ukraine
The Foreign Secretary has urged Russia to halt the flow of arms and avoid provocative actions in eastern Ukraine.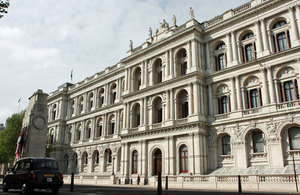 Responding to the Ukrainian National Defence and Security Council reports this morning that Russian military vehicles have crossed the border from Russia into Ukraine in the last 24hrs, the Foreign Secretary, Philip Hammond, said:
I am deeply concerned by reports of an increased flow of heavy weapons crossing into Ukrainian sovereign territory from Russia and by reports of Russian armed forces exercising for a 'humanitarian intervention' in a third country. The conditions for such an intervention in eastern Ukraine manifestly do not exist. In these circumstances, such an intervention would be unjustified and illegal. I strongly urge Russia to avoid any provocative actions, which will only serve to increase instability in the region and lead to further damaging consequences for Russia's relationship with Europe. Along with our G7 and EU partners, we have consistently called on Russia to stop the flow of weapons across the border and made clear that the international community will increase the cost to Russia if it fails to take steps towards de-escalation.

If Russia is really concerned about the welfare of the nearly 7 million people in the Donbas region, it should immediately cease arming separatists so that the Ukrainian authorities can restore law and order.
Further information
Follow the Foreign Office on twitter @foreignoffice
Follow the Foreign Office on facebook and Google+
Published 8 August 2014