Press release
Foreign Secretary responds to Intelligence and Security Committee statement on GCHQ
Foreign Secretary William Hague welcomes Intelligence and Security Committee findings that allegations against GCHQ are unfounded.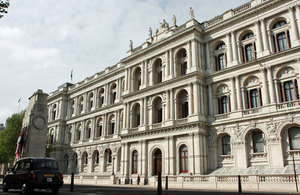 Commenting on the statement by the Intelligence and Security Committee on 'GCHQ's alleged interception of communications under the US PRISM Programme', the Foreign Secretary said:
The Intelligence and Security Committee has today cleared GCHQ of the allegations of illegal activity made against it.

The Committee has concluded that these allegations are "unfounded". I welcome these findings.

I see daily evidence of the integrity and high standards of the men and women of GCHQ. The ISC's findings are further testament to their professionalism and values.

I have written to Sir Malcolm Rifkind to thank him for the Committee's prompt and thorough investigation.

The Intelligence and Security Committee is a vital part of the strong framework of democratic accountability and oversight governing the use of secret intelligence in the UK. It will continue to have the full cooperation of the Government and the security and intelligence agencies.
Further information
Follow the Foreign Office on twitter @foreignoffice
Follow the Foreign Office on facebook and Google+
Subscribe to the announcements feed or email alerts to get our latest news and announcements.
Published 17 July 2013