Foreign Secretary responds to developments in the Maldives
While speaking in Parliament, Foreign Secretary William Hague addressed the situation in the Maldives.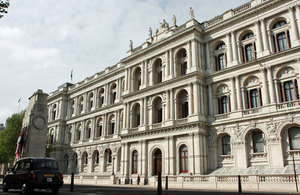 "I just want to register our concern about developments in particular the reports of attacks on members and supporters of the Maldivian Democratic Party.
My Honourable Friend, the Member for North East Bedfordshire and the Minister for the Middle East, has spoken to the former President Nasheed and the new President and expressed these concerns.
It is for the new leadership to establish its legitimacy with its own people and with the international community with an independent review of the circumstances leading to what has happened earlier this week, and we hope that the new leadership will demonstrate its respect for the rule of law, including peaceful demonstrations.
I welcome the call for calm and order from the former President Nasheed to all his supporters. And my Honourable Friend for North East Bedfordshire will be delighted to discuss with Honourable Members the situation in the Maldives, with which he has been in close touch, if they wish to do so."
Published 9 February 2012