Press release
Foreign Secretary reiterates commitment to Gibraltar
William Hague today spoke to Gibraltar's Chief Minister Fabian Picardo, and reiterated the UK's commitment to the people of Gibraltar.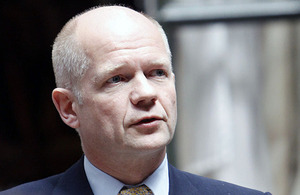 The Foreign Secretary said:
I emphasised to Gibraltar's elected Chief Minister, Fabian Picardo, that the UK stands shoulder to shoulder with the people of Gibraltar at this time of increasing Spanish pressure and rhetoric. I also highlighted that we will respect Gibraltar's 2006 Constitution and the commitments the UK has repeatedly made not to compromise on British sovereignty over Gibraltar.
We discussed the need for a political solution to the current tension with Spain, which would be firmly in the interests of communities on both sides of Gibraltar's border with Spain. I call upon Spain to respect the agreements made at Cordoba and to avoid actions which could increase tension further.
We agreed that it was important to respond to actions, not rhetoric, and I confirmed that we would continue to raise our concerns with Spain.
Further Information
Follow the Foreign Secretary on Facebook and on twitter: @WilliamJHague.
Follow the Foreign Office on Twitter, Facebook & Google+.
Subscribe to the announcements feed or email alerts to get our latest news and announcements.
Published 5 August 2013