Foreign Secretary pledges continued support for Syrian people
Six months into the peaceful protests across Syria, Foreign Secretary William Hague has pledged continued support for the Syrian people.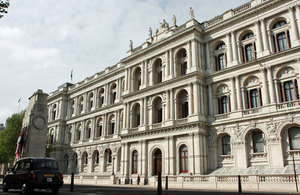 Speaking today the Foreign Secretary said:
"For six months we have seen peaceful demonstrations across Syria met with systematic reprisals by the Syrian regime. The regime's response has been violent and bloody. Across Syria, towns and cities have been besieged, while arbitrary execution, torture and the detention of many thousands have become commonplace. The brutality has extended to women, children, the elderly and to prominent peaceful human rights activists such as Ghiyath Mattar, who was killed this week and Imad Abu Zeitoun, and Yahya Sharbaji who remain in arbitrary detention.
"The Syrian people are calling for peaceful reform. The Arab Spring demonstrates that the universal aspiration for open societies, political freedoms and transparent and accountable government cannot be suppressed. President Assad and his regime are deluding themselves if they believe they can halt this tide. I once again call on President Assad to stop the violence and step aside so that credible reform can begin. We will continue to work with our partners and through the UN to support the aspirations of Syrian people."
Published 16 September 2011