Press release
Foreign Secretary pays tribute to Lakhdar Brahimi
William Hague pays tribute to Lakhdar Brahimi's efforts on Syria and urges regime to re-engage in political process.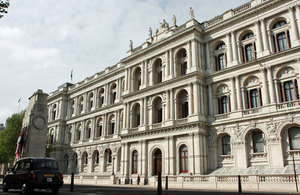 Reacting to news that Lakhdar Brahimi had announced that he would step down as joint UN and Arab League Special Envoy on Syria, William Hague said:
"I would like to thank Lakhdar Brahimi for the role he played, as joint UN and Arab League Special Envoy, in getting the parties to sit down at the same table in Geneva and take the first steps towards potentially constructive dialogue. He showed excellent leadership and incredible patience, and the responsibility for the collapse of that round of negotiations rests wholly with the regime's refusal to engage in negotiations that addressed the issues at the heart of the Syrian conflict.
"Although the Geneva II process is currently stalled, a negotiated political transition in Syria is the only way to end the conflict and alleviate Syria's humanitarian crisis. The Syrian regime and those supporting it need to re-engage in the political process, and show they are serious about reaching a political settlement by mutual consent between the Syrian parties.
"Political dialogue remains very active between the UN and the international community, among the supporters of the opposition, and among Syrians themselves. On Thursday, at the meeting of the 'London 11' core group of the Friends of Syria, I will be talking to partners about how we can turn this dialogue into meaningful political process."
Further information
Follow the Foreign Secretary on twitter @WilliamJHague
Follow the Foreign Office on twitter @foreignoffice
Follow the Foreign Office on facebook and Google+
Published 13 May 2014