Foreign Secretary on violence in Syria
Foreign Secretary William Hague calls for Syrian government to respect right of peaceful protest, for restraint, and for serious political reforms to be implemented without delay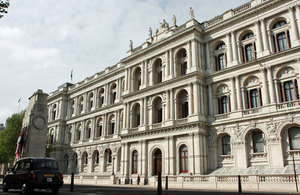 Commenting on the recent protests in Syria, Foreign Secretary William Hague said:
"I continue to watch the evolving situation in Syria closely, and am deeply concerned by continuing deaths and violence in Deraa and Latakia. Ahead of possible protests on Friday, I call on the Syrian government to uphold its responsibility to protect protesters and to respect the right of peaceful protest and free speech. I call for restraint, particularly from the Syrian security forces.
I note the announcement of committees to study repeal of the Emergency Law, and to review the 1962 census that resulted in many Kurds in Syria being excluded from Syrian citizenship. I believe it is important for the Syrian government to address the legitimate demands of the Syrian people. I call for serious political reforms to be brought forward and implemented without delay".
Published 31 March 2011