News story
Foreign Secretary on the reported death of Anwar al-Awlaki
Foreign Secretary William Hague says the death is a blow to Al Qaeda.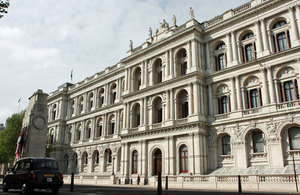 Speaking today the Foreign Secretary William Hague said:
"If confirmed, the death of Anwar al-Awlaki is another significant blow to Al Qaeda. With the attempted Detroit bombing and the aeroplane cargo bomb plots he has demonstrated his intent and ability to cause mass terror, whilst his murderous ideology was responsible for inspiring terrorist attacks in the UK and the US.
We must keep up the pressure on Al Qaeda and its allies and remain vigilant to the threat we face."
Search the news archive
Published 30 September 2011