Foreign Secretary on the Foreign Affairs Committee report on Afghanistan and Pakistan
Foreign Secretary welcomed the Foreign Affairs Committee report 'The UK's foreign policy approach to Afghanistan and Pakistan'.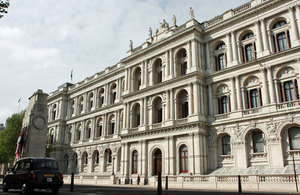 Foreign Secretary William Hague said:
"I welcome the publication of this important and wide-ranging report. I fully support the Committee's assessment that now is the right time to advance a political process in Afghanistan. We are building on recent military and civilian gains, the result of joint efforts by the Afghan Government and the international community, to ensure progress towards a more stable and secure Afghanistan in 2011.
"The situation in Afghanistan is constantly changing and in some cases has moved on from the evidence given to the Foreign Affairs Committee. The Government has been keeping Parliament informed about developments in Afghanistan on a monthly basis, most recently earlier this week.
"The report raises a number of concerns which will be addressed in our formal response to Parliament within the next two months."
Published 2 March 2011