Foreign Secretary on Qadhafi: "We will judge him by his actions, not his words"
Foreign Secretary discussed the UN Security Council resolution and the situation in Libya on BBC Radio 4's Today programme on 21 March.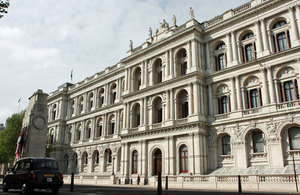 Explaining the UN resolution the Foreign Secretary said it "authorises all necessary measures to be taken to protect the civilian and the populated areas of Libya".
"Let's not forget what we've achieved in the last few days. Qadhafi, without this resolution, without the action we've taken, was setting about attacking Benghazi with, he said, no pity or mercy, to search every household. There would have been a humanitarian disaster as people fled from that, and that at least for now has been averted. And so something very important has been achieved, which is the protection of the civilian population by the action we've taken so far."
Speaking about the ceasefire that was declared by Qadhafi last night the Foreign Secretary said "we will judge him by his actions, not by words."
"He's declared a ceasefire just two days before, which was completely disregarded. Every word spoken by the Libyan Foreign Ministry on this turned out to be untruthful because the attacks on opposition forces and on civilians continued."
Prime Minister David Cameron will open a debate on the UN Security Council Resolution in Parliament this afternoon.
Published 21 March 2011