Foreign Secretary on Libya conference
Foreign Secretary William Hague said today's conference would be seeking to create the conditions for the Libyan people to determine their own future.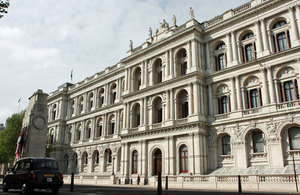 Speaking this morning the Foreign Secretary called on Qadhafi to leave power.
"People who have committed crimes, if the prosecutor has the information on them, should be before the International Criminal Court. But of course where he (Qadhafi) goes, if he goes, is up to him and the people of Libya to determine, and we will not necessarily be in control of that."
The Foreign Secretary said he did not take for granted that the Interim Transitional National Council was necessarily the future government of Libya.
"That is for the people of Libya to determine in the future. One of the things that we will launch at the conference today is the political process that of course will include that national council. David Cameron and President Sarkozy have said in their letter yesterday, that it's for the people of Libya to determine their future.
We are involved in Libya to implement the United Nations Resolution 1973, which we have been doing with increasing success."
The Foreign Secretary said the UN resolution made clear civilians should not be threatened or attacked and there should be a ceasefire.
"I've seen no evidence yet of the opposition side in Libya attacking the civilian population. From what we can tell in the towns that they have now taken over again, they have been welcomed by the civilian population. Equally, I think it's very important to make clear - because in the report that we heard just before this interview there was a reference to the coalition killing people - there is no confirmed evidence of any civilian casualties as a result of coalition air strikes and missile strikes. Of course there's always a risk of that, but we do everything we can to minimise the risk of that."
The Foreign Secretary said the Qadhafi regime, despite three times now over the last 11 days announcing ceasefires or variants of ceasefires had gone on fighting and attacking civilians.
"There will be no occupying force in Libya or any part of Libya, that's very clear in the resolution. So what we need is for the Qadhafi regime to implement a real ceasefire, which means ceasing fire and withdrawing from areas where they are engaged in battles with rebels - President Obama spelt that out very clearly at the beginning - disengaging from towns like Misuratah and enforcing and observing a real ceasefire. That would then mean that the UN resolution was in force and had been successfully implemented.
We support the territorial integrity of Libya. From everything we've heard from the rebel side, the opposition side, they certainly don't want that either. And as you will know, this situation has changed so dramatically several times over the last three weeks that I think it would be wrong to try to forecast now that such a partition would happen. But what we will be doing, additionally to implementing the resolution and the military operations I've spoken about, is looking today at getting more humanitarian aid to those places that need it, and as I say, launching that political process, not to determine the future of Libya for the Libyan people but to try to give them the opportunity to determine their own future."
Published 29 March 2011