Foreign Secretary on Burma
Less than two months before planned elections, the Burmese regime has dissolved Aung San Suu Kyi's National League for Democracy and rejected the registration of five ethnic parties.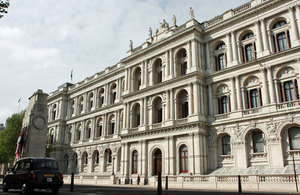 Reacting to the news, the Foreign Secretary William Hague said:
"These actions expose the elections in Burma for what they are - a sham process designed to keep the regime in power and deny the Burmese people their right to freely choose their leaders.
The elections should have been a chance for national reconciliation; helping to end decades of ethnic conflict and needless poverty in the country. This opportunity is being squandered. These latest developments should be greeted with dismay and condemnation by the international community and a renewed determination to support the people of Burma".
Published 16 September 2010