Foreign Secretary offers condolences to victims of explosions in Republic of Congo
Foreign Secretary William Hague has spoken following a blast at a munitions factory in Congo. At least 200 people are reported to have been killed.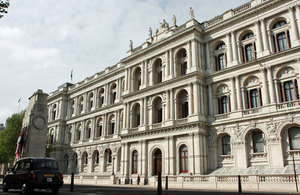 On hearing the news, the Foreign Secretary said:
"I was greatly saddened to hear of the large number of casualties in the explosions which occurred in Brazzaville today. I would like to express my condolences to the people and Government of the Republic of Congo, and our thoughts are with the families and friends of those killed and injured."
British nationals are advised to exercise caution when travelling around Brazzaville. The explosion could be heard from Kinshasa in the Democratic Republic of Congo, which has prompted an increase in military presence in the city. For this reason, British nationals in Kinshasa are also advised to exercise caution when travelling in the city.
Published 4 March 2012