Foreign Secretary offers assistance of UK flood experts to Queensland
Foreign Secretary William Hague has announced that Britain would provide assistance to the Australian Government in response to the recent flooding.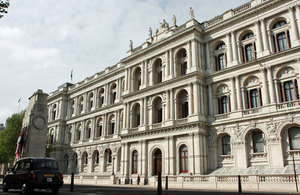 The UK made the offers of assistance during discussions at the AUKMIN Australia-UK Ministerial talks between the Foreign Secretary, British Defence Secretary Dr Liam Fox and Australian Foreign Minister Kevin Rudd and Defence Minister Stephen Smith at HMAS Watson today.
The British Government will provide experts in flood recovery management and experts in advanced flood forecasting methods from the UK Flood Forecasting Centre.
"Australian authorities have performed brilliantly throughout this emergency, but we are happy to be able to share what practical support we can, including our experience of managing floods and their consequences. We are keen to do what we can both to deal with the effects of these dreadful events and to help with future planning," said the Foreign Secretary.
Flood recovery management
Flood recovery management experts specialise in helping communities recover from the effects of floods, including the health and psychosocial effects.
Advanced flood forecasting methods
The UK Flood Forecasting Centre (FFC) is a partnership which combines expertise in meteorology (Meteorological Office) and hydrology (Environment Agency) to forecast river, tidal and coastal flooding as well as extreme rainfall which may lead to surface water flooding. As a dedicated team in one national centre, the FFC provides the best possible intelligence and support to existing Environment Agency flood warnings and Meteorological Office weather warning services for England and Wales. This enables country-wide flood alerts with a long lead time, and information which is sufficiently accurate and precise to be targeted to emergency responders.
Mr Hague is visiting Australia as part of the most significant official UK visit to Australia for two decades. He is accompanied in Australia by the Right Honourable Dr Liam Fox MP, Secretary of State for Defence as well as senior British government officials.
Published 18 January 2011