Press release
Foreign Secretary: My priorities are security, economy and Europe
Philip Hammond stresses need for reform in the EU.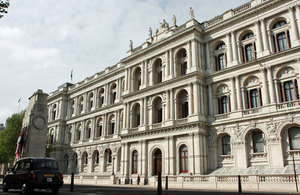 Speaking today, Foreign Secretary Philip Hammond said:
I am honoured and privileged to be given the opportunity to serve as Foreign Secretary.

I pay tribute to the achievements of my predecessor, William Hague, who put this country back on the international stage. He has built new and stronger relationships around the world, whether with traditional allies such as the United States or the new emerging powers whose role will become ever more important. And he has re-established the Foreign and Commonwealth Office as one of the great powerhouses of international diplomacy.

I want to build on his work to protect and promote the British national interest. Like him, I will put the national interest at the heart of everything that I do and everything that the Foreign Office does under my leadership. We will work to ensure that our diplomacy increases Britain's security and prosperity. I want the Foreign Office, through our network of 260 diplomatic missions abroad, to redouble the efforts it makes to help British companies as they trade and invest abroad, creating jobs at home and delivering our long term economic plan.

I will work with the Prime Minister and Chancellor to negotiate significant reform in how the European Union works, to lay the ground for a new relationship between Britain and the EU. One that promotes our national interest and reflects the concerns of the British people.
Further information
Follow the Foreign Office on twitter @foreignoffice
Follow the Foreign Office on facebook and Google+
Published 15 July 2014