Foreign Secretary meets with Israeli Foreign Minister
Foreign Secretary William Hague welcomed Israeli Foreign Minister Avigdor Lieberman at the start of his three-day visit to the UK.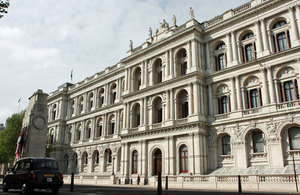 They met for an hour at the Foreign Office. Afterwards the Foreign Secretary gave Foreign Minister Lieberman a tour of the Cabinet War Rooms.
The Foreign Secretary stressed the British government's commitment to a strong bilateral relationship with Israel. The UK, and the Foreign Secretary personally, sees Israel as a close friend of longstanding. The Foreign Secretary underlined the UK's opposition to efforts to delegitimise Israel. They welcomed efforts to deepen economic and scientific co-operation between the UK and Israel, and confirmed that the next meeting of the UK/Israel Strategic Dialogue would take place in Jerusalem on 17 March.
The Ministers discussed regional issues, including their shared determination to see a resolution to Iran's nuclear programme to avoid an arms race in the Middle East.
The Ministers' discussions centred on the Middle East Peace Process. The Foreign Secretary made clear that while the UK understands Israel's security concerns, the current freeze in the Peace Process is not in the interests of Israelis, Palestinians or the wider region. He stressed that the window for peace in the Middle East is closing, and that continued occupation is eroding Israeli security and international support for Israel, and hampering the region's economic potential.
The Foreign Secretary made clear again the British Government's view that the construction of settlements is illegal, an obstacle to peace, and should stop. He underlined the need for Israel and the Palestinian Authority to find a way back to negotiations as soon as possible in order to reach a lasting two state solution.
Published 24 January 2011