Foreign Secretary meets Vice-President Moreno of Ecuador
Foreign Secretary William Hague met the Vice-President of Ecuador Lenín Moreno at the Foreign Office on 29 August.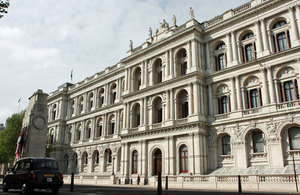 They discussed Vice-President Moreno's work on the 'Ecuador Without Barriers' programme which provides a package of support for people with a disability and carers in Ecuador, and the importance of the Paralympic Games in raising awareness of the rights of people with disabilities.
The Foreign Secretary thanked Vice-President Moreno for travelling to London for the Paralympic Games and asked the Vice-President to pass on his congratulations to the two Ecuadorian Paralympians who will be competing in swimming and weightlifting.
They also discussed the situation regarding Mr Julian Assange's presence in the Embassy of Ecuador in London. They confirmed the UK and Ecuador's commitment to dialogue to find a diplomatic solution to the matter.
Published 29 August 2012